You can read the other articles in this series here.
Initially, when I set out to write this piece I was going to discuss the value for money that K2 offer, especially when considering the view that fans have of them. A tweet I put up on Saturday attracted responses on and off the record which weren't complimentary; which I guess isn't too surprising as K2 work at the shittier end of the stewarding job.
However, one invoice in particular got me wondering just what Blues were paying for.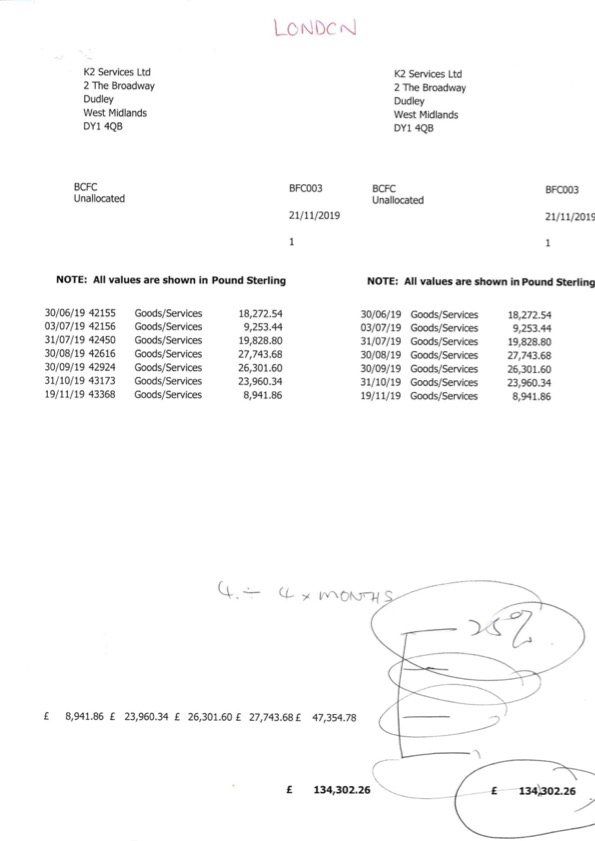 From going through the invoices, it became apparent that Blues had two accounts with K2. This isn't anything special; I am sure that this sort of thing happens frequently when companies want to divide invoices between cost centres so that they can accurately do their accounts.
The statement of account above in particular interested me. The annotations on the document are as I've received it – and the word London in red pen made me wonder if this set of invoices were for some work K2 had done for Blues in London.
Again, I thought nothing of it as I know that former CEO Ren Xuandong resided in London while he was at the club, and I can accept that his popularity with fans might have meant that he needed additional security when out and about.
However, these invoices are from 2019 – and I am fairly sure that Ren was not living in London at this time. Further examination of invoices I have showed that the secure chauffeur services for Ren that Blues paid for were on a different account number from the ones that were annotated London.
If this was the case – then who were Blues paying for in London?
Thankfully, I was able to work it out as the invoices referenced in the statement above are also in my possession. The first invoice dated 30 June 2019 includes an itemised expense report, which detailed everything from hotel costs to the bills from fast food places like McDonalds and KFC.
Five entries in particular caught my eye, as they were for a convenience store in Swiss Cottage called Welcome.
As many readers will know, I visited the London home address of the elusive Mr King, Wang Yaohui in June 2020 to deliver a letter.
What I've never made public is that prior to dropping off that letter, I had a pint of Dutch courage in his local pub to quell my anxiety for what I was about to do. The pub I visited (and paid £7 for a pint in) was Ye Olde Swiss Cottage – which for those who don't know the area, is right next to where the convenience store mentioned above is.
Therefore the question has to be asked if Blues paid out £134k to guard a man about whom club director Edward Zheng Gannan stated on Talksport radio that he'd never heard of?
I emailed K2 twice with specific questions about this set of invoices to get some sort of confirmation or denial but they have yet to respond.
I also emailed Blues twice to ask if they had paid K2 to guard any person not connected with the club and they have declined to answer my questions.
Without their confirmation, it is difficult for me to say with 100% certainty that K2 were in London to guard Wang Yaohui and his common-law partner Tang Yuhong, and the fact that K2 had operatives using a local convenience store is not a smoking gun.
However, I would also like to enter into the equation an email I received in July 2019 from an anonymous source.
"The Wang home in [REDACTED] got robed [sic] last month. They have 24 h security guard at their home since then, guy from Birmingham, provided/recommendation through the football club."
I was also told
"They took cash and watches (Wangs buy lots of them; recently flew to Monaco to a private VIP Swiss watch maker exhibit – apparently the wangs are their top customer) maybe diamonds and gold bars too as the Wangs have a nice inventory of it from what I heard. Couple of guys did that , caught on their security cameras, Eastern European origins according to the police, not apprehended yet."
While I've not been able to find a report of this specific crime, I did see that a gang of criminals who stole a large number of watches and other high value items in the area of Wang's house around the date mentioned above were sent to prison in April 2021.
My source has also confirmed when I fact-checked this article the name I have for the security guard in question, which is Matthew Slater.
I have tried to locate him using social media and found one security operative with the right name living in Kingswinford, but he replied to me that he was not the person I was looking for.
Evidently, the sum being paid for Matthew Slater to do this job got very expensive, as Birmingham City offered to employ him directly giving him the title of "Assistant Health and Safety Officer", with an annual pay packet of £104,000 – but working hours that equated to 24 hours a day, 7 days a week.
The club have declined to answer my questions as to whether Mr Slater is still employed by the club, and what his role was / is as assistant health and safety officer.
---
As I've said previously, I have to accept there is a chance that this is all coincidental, and that K2 could have been employed on another job in the area.
It is my opinion however this all lines up too neatly, and I'm disappointed that neither the club nor K2 were able to offer me a comment – particularly as the club seem to be so strenuous to deny that Wang Yaohui has anything to do with it, let alone be connected to the titular owners.
While I don't expect either Paul Suen Cho Hung or Vong Pech to make any comment on ownership, I do think it would help if BSH Chairman and BCFC director Zhao Wenqing said something to assuage fan fears, particularly as he's still in Birmingham.
Zhao is a director of a company owned by Vong Pech and has previously been a director of a company owned by Wang Yaohui. If there is a man who can refute the connection, Zhao is it.
Otherwise all I can do is to keep piling up the evidence that says otherwise.