You don't have to look far to see how bad finances are in the Championship. The graph below from acclaimed football finance writer the Swiss Ramble shows that 15 of the 23 clubs reported (including Blues) have a wage to turnover ratio of 100% or more in the 2015/16 season.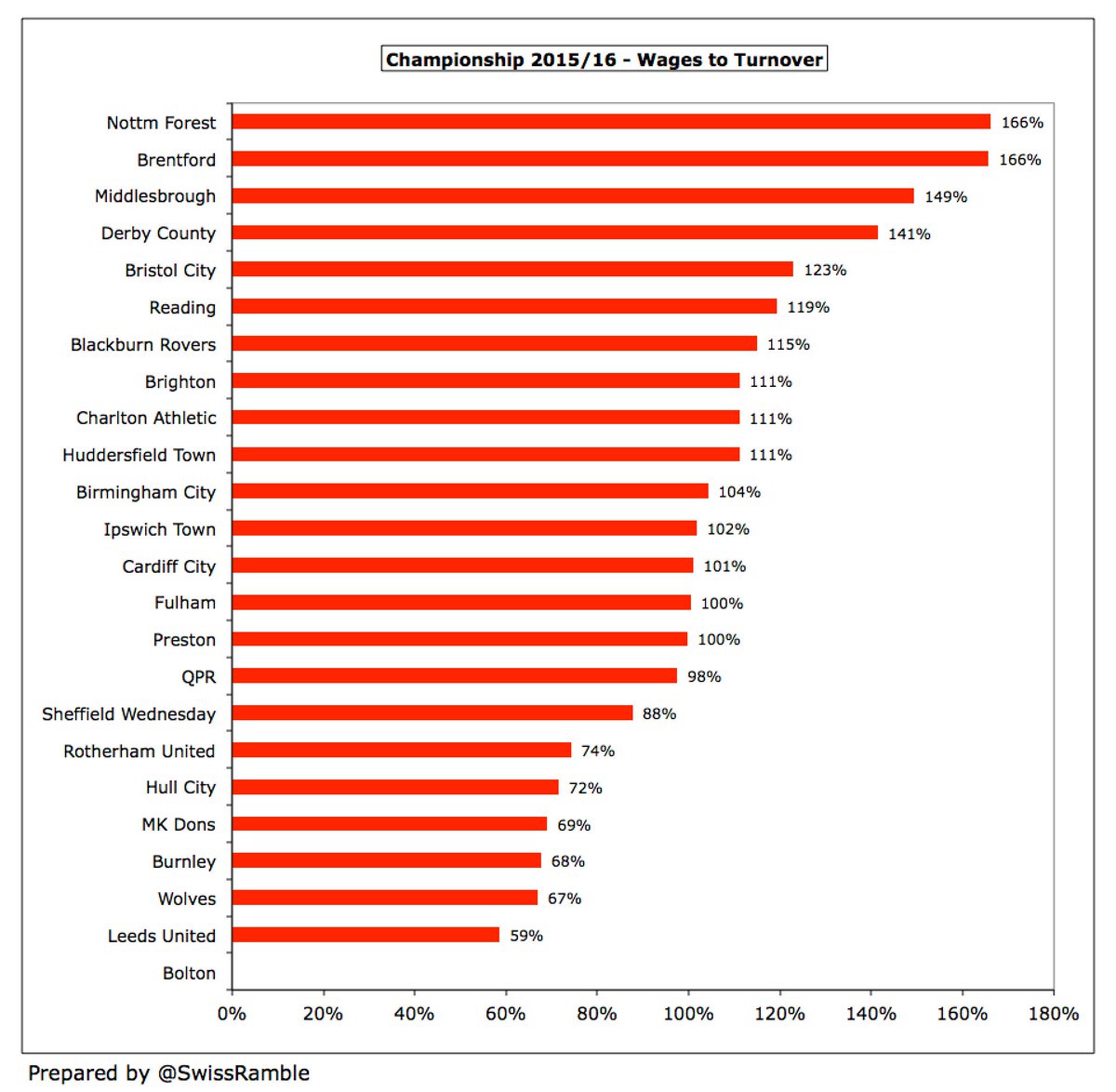 What this means is that for every £1 these clubs earn, they spend £1 or more on player wages ALONE – no way to run a sustainable business.
This comes as no surprise to me, as the last accounts made available by Blues shows that Blues spent £15.3mil in wages but received £14.7mil in revenues.
Those accounts also show BCFC made a loss of £5mil in the 2015/16 season.
Last year's accounts won't be made available until December of this year, but I'm hardly expecting any better.
In January Blues spent about £7mil net on transfers by my reckoning.
Wages will also have gone up due to the signings made in January, plus paying off Rowett (approx 500k – not to mention his staff), and Harry Redknapp's bonus for keeping the club up (reputedly £250k).
Yet I can't imagine revenues were any better – so is it possible Blues will have made a loss in the region of £10m – £15m last year?
FFP allows for a maximum deviation (read loss) of £5mil per year for three years plus a maximum £8mil in shareholder investment – £13mil a year x 3 = £39mil in total. Rules are slightly different for clubs who have been relegated from the Premier League due to the parachute payments they receive.
Failing to meet those rules can mean clubs receiving financial sanctions or a transfer embargo. The EFL outline more here.
Now, while accepting that an FFP result is different from actual profit/loss, one can't help but notice that Blues cannot be too far from problems.
Assuming Blues lost £15mil last year, in addition to the £5mil from the year before that puts them at £20mil down. I can't imagine wages/revenues will be much different so I'm going to say that means Blues start from a -£8mil figure for this year (£15mil – £7mil transfer net spend) which equals £28mil down.
That would mean Blues having no more to spend than £11mil net on players – wages, transfer fee, everything.
Compare that to some of the figures banded around for players (which Blues are admittedly not going to sign).
John Terry on £50k per week for a year would be £2.6mil.
Henry Onyekuru on £32k per week for a year plus a transfer fee of £7.89mil = £9.5mil
In other words, signing both of those players at the reported figures would have potentially wiped us out for FFP purposes.
I'm not going to lie – this does worry me. Although Blues aren't going to sign those players, the fact that it might even be considered makes me wonder how this is sustainable.
The impression I get from speaking to people is that there is an almost an air of not caring about FFP any more – as so many teams seem to be getting away with flouting it, it's not worth worrying about.
Until Blues do actually make signings, this is all hypothetical. Furthermore, I have to reassert the caveat that I'm working on back of the envelope calculations to figure this out – but I don't think I'm massively far off the truth.
I guess the question is – would you risk a year of spending like it's going out of fashion and potentially going up, knowing that the downside is if doesn't work the club could be hit with trouble?