The original news about the tie up between Blues and Cornella didn't come from either club. Instead, it was reported on the Soccerex website that Blues were to tie up with the Spanish team as an opportunity for an exchange of knowledge; four Blues players (Charlie Lakin, Connor Stanley, Remi Walker and Remeao Hutton) were to spend time at a training camp in Catalonia, and coaches such as Richard Beale would be able to learn new training methods.
In September 2018, agents Omni-Sports posted a picture of a partnership signing with then Blues CEO Ren Xuandong sharing press duties with Cornella Technical Director Andres Manzano. Apart form the picture, no other information was released and it was mysteriously not mentioned in any detail by Blues either. It was almost as if the club's media team were told to stay away from the story.
It wasn't until the summer of 2019 that we saw anything really meaningful about the deal.
On July 4, Cornella head coach Xavi Calm was appointed as head coach to the u23s side at Blues. Three days later he was joined on the BCFC pre-season tour of Portugal by Cornella players Agus Medina and Ivan Guzman who had been training at Wast Hills. I mentioned at the time it was a little bit strange as while Medina had been a mainstay in the Cornella midfield, Guzman had spent the previous season at Olot.
Medina made one start in the EFL Cup and one sub appearance in the Championship against Bristol City during his two-year spell at Blues; Guzman never played a minute having spent both years back on loan at Cornella.
The only other player to make the move from Catalonia to Birmingham was young midfielder Miguel Fernandez, who made one sub appearance in the 89th minute of the Championship game against Derby on July 22, 2020.
As a partnership it seemed a bust; email enquiries to the club asking when the collaboration lapsed (if it has lapsed at all) have so far been ignored.
On January 6, 2021 Naveen Ullal reported on the Sports Witness website that similar to the model Manchester City has with Girona of the Spanish league, Birmingham City had taken a shareholding in UE Cornella and that Manzano had also become an external advisor to the club.
They went on to quote Cornella's technical secretary Juan Gimenez who stated to Marca:
"On the pitch, it does not have much impact, but for grassroots football it is important."

"We secure player transfers and we ensure that there are footballers who can have their chance in one of the most powerful leagues in Europe.

"Grassroots football is our hallmark. We have about a thousand children in grassroots football and teams in all the lower categories."
As a Societa Anonima Desportiva (SAD), it's very difficult to find out any details of the ownership of Cornella from the Spanish Mercantile Registry and as such it's been very difficult to verify any claims about the ownership of Cornella.
However, new documentation which has come into my possession has changed that.
On July 9, 2018 in Barcelona, two documents were signed which formalised the agreement between the two clubs.
The first was signed by Ignacio Guerrero Vanaclocha and Ma Dong in their capacity as shareholders of Nama Sports along with Ren Xuandong, who stated he was "Vice-President" of Birmingham Sports Holdings Limited, the Hong Kong-listed owner of Blues.
The agreement was for Nama Sports to sell and for BSH to buy 80% of UE Cornella for a price of €3.5M. There was then a further commitment for BSH to inject €1M per year into Cornella for three years with the latest date for payment being 31 July 2018, 31 July 2019 and 31 July 2020 respectively.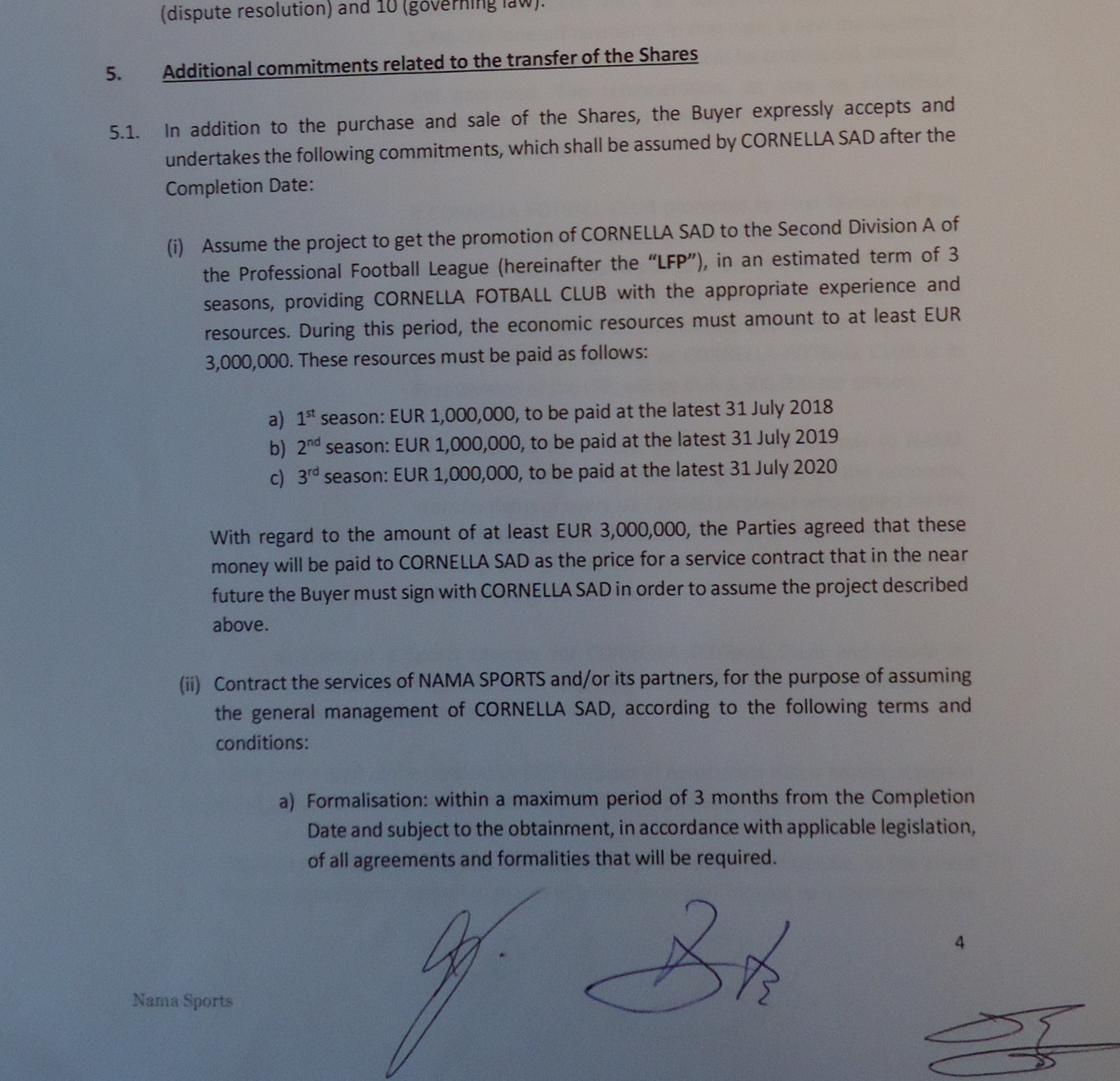 As part of the agreement, BSH would contract the services of Nama Sports to assume general management duties of UE Cornella, and to pay them a fee based on which division Cornella were in, with bonuses of €1M for promotion to Segunda Division A and €3M for promotion to La Liga.
There was also a commitment that Nama Sports would receive 50% of any transfer income generated by players already at the club and 20% of any income generated by home grown players transfer rights regardless of when they signed for Cornella.
The second document is dated the same day and is a memorandum of co-operation between Blues and Cornella. It is signed by Andres Manzano and Ren Xuandong, and is witnessed by Ivan Guerrero Vanaclocha.
Among other things, this agreement gave Blues first option on any UE Cornella player and stipulated that Manzano was to become a direct advisor to Ren Xuandong on all Blues footballing issues.
While I'm not against football partnership agreements at all, these documents are problematic for at least two reasons.
First of all, BSH have made no announcement to the stock exchange about the purchase of UE Cornella SAD; nor have they accounted for their performance in their segmented accounts. I have twice emailed the company secretary of BSH to ask for comment if the purchase was finalised or if Ren even had the authority to pursue it only to be given a form response. I will be passing a copy of the documentation to the Hong Kong Stock Exchange to see if they wish to pursue the question any further.
Secondly and more importantly, I'm very concerned by what appears to be a huge conflict of interests. The BSH purchase agreement confirms that Nama Sports would receive half of any transfer income for any players sold by Cornella, while the collaboration agreement sets up a route for Blues to buy any Cornella players they wished.
As it happened, Blues only brought in two directly (Medina and Fernandez) but it feels like that was massively open to abuse, particularly as Manzano acted as an advisor to Ren.
I've not been able to properly ascertain the ownership structure of Nama Sports either, which then asks questions of where that transfer income would have gone.
For me, these issues are symptomatic of some of the problems Birmingham City have faced in the last five years.
Rather than setting up a collaboration agreement which could have properly extended scouting networks and brought in new training ideas, it feels like a money making scheme for the benefit of the few involved.
In this new Brexit era, the way work permits are given out in football has changed and it's now more important which league a player plays in than what nation they come from.
A good partnership between Blues and a club from a league which is ranked highly but is less financially stable could be a great route to bring in cheaper players – something that is key in a division which is very much decided by the haves and have nots.
If the Cornella agreement has indeed lapsed, I can only hope that the mistakes of that agreement have been learned from and that maybe we will see something that profits the footballing side more deployed in future.