It's safe to say that Ren was not the most popular man in Birmingham when he quit in May 2021. The appointment of Aitor Karanka as manager had gone horrifically wrong, and the stubborn refusal to let go of the Basque manager rankled with fans. When Karanka finally did depart it put Ren into a tough position with the rest of the board and it wasn't too surprising that he fell on his own metaphorical sword two months later.
But why had things gone so bad?
---
Following the defeat to QPR on January 2, 2022, Lee Bowyer was searingly honest with the press about some of the challenges the club faced – particularly in the transfer market. As he explained the current one out, one in policy he remarked that:
"There have been mistakes made at the club before, so we have to fix them mistakes."
I'm not sure exactly what Bowyer was referring to, but in my mind the "trolley dash" that took place in the summer of 2017 and the FFP problems that followed it have been one of the root causes of our problems over the last few years.
There is enough out there about who Blues signed that summer to not need to go into it.
The only question really is who was responsible for the decisions made that summer; as visceral as my personal loathing for Harry Redknapp is, he's probably the person I hold least accountable.
Darren Dein was certainly a factor; an adviser to the board on a fairly humongous £25k a month retainer plus let alone what else.
Ren wasn't quite the figurehead of the board back then as he came to be. Only appointed a director of the club in June 2017, it wasn't until the appointment of Steve Cotterill in October when Ren became top dog.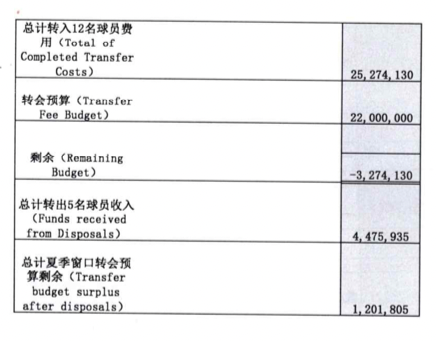 Whoever was to blame £25.274M of transfer budget was blown, leaving just £1.2M in the budget set by BSHL for the year when outgoings were taken into account.
What happened next was horrific.
Two weeks after the transfer window ended, Redknapp was sacked – a decision that was to cost £1.75M in a payoff for Redknapp alone.
His replacement Steve Cotterill struggled to get anything going and was given nothing to spend in the January window as the reality of how much money had been wasted became clear.
By March 2018, the rumours were already flying about clubs including Blues breaching FFP.
The board were told in no uncertain terms that there was going to be a substantial breach of FFP that summer. Ideas were offered to prevent that; the sale of Che Adams for £6M and David Stockdale for £2.5M plus another player for £1.5M profit. It was also made clear what would happen if money didn't come in – an automatic transfer embargo as of July 1, 2018.
The board were also told that to remain on the right side of the rules, Blues would have to keep a tight first team squad, limit their loan expenditure and get rid of Cheick NDoye to be replaced by someone much cheaper.
There was hope that Jack Butland might be sold on for a large fee, which would be of benefit to Blues due to a 20% sell on.
We all know what happened next. No one was sold, and Blues spent money on Kristian Pedersen – and on July 1, the embargo was imposed.
While there were various bits reported in the press, I think it's fair to say that fans weren't aware of what exactly was going on behind the scenes.
Letters were sent backwards and forwards between the club and the EFL and while I'm not privy to the actual contents of the letters, I've seen summaries of them.
On July 30, Ren emailed Shaun Harvey at the EFL to set out exactly how much Blues were looking to spend in the transfer window. Ren noted that the top lines seemed aggressive, but that the club were going to spend £27M on eight new players.
Bear in mind at this point the club had been under a strict embargo for a month and still hadn't got the okay to complete the Pedersen deal. I don't think it's unfair to say that the EFL might have had a point when they said this was unsatisfactory.
Two days later, Harvey replied.
The EFL told Ren that Blues would need to comply with a business plan under the provisions of EFL Regulation 16.20. One condition was that Blues would have to make a cost saving of not less than £9m based on transfer fees, reduced wages and reduction in player amortisation charges.
That figure went up to £10.5M on August 14, based on the five players that Blues registered (Pedersen and Lee Camp permanently plus the loan signings of Connor Mahoney, Omar Bogle and Gary Gardner).
While Blues sent a few players out loan and terminated the contract of Diego Fabbrini they still had a large amount to make up in the January Window.
On November 20, Ren drew up a plan which was shared with the EFL on how the club would do this.
The club confirmed they were prepared to sell Che Adams for £14m or Lukas Jutkiewicz for £13M; Maxime Colin for £6M, David Stockdale for £2M and Tomasz Kuszczak on a free transfer.
None of those figures materialised. There were several bids for Adams which topped out at £10M straight from Fulham and £11.25M including add-ons from Burnley.
Blues missed their target by more than £7M, leading them not only to be deducted points in March, but also to face a second charge which ended up with the club taking a rap across the knuckles. It could have been much worse.
It might not have been Ren who spent the money at the start, but it was certainly Ren who dealt with the EFL during the whole fiasco.
His aggressive stance towards the EFL certainly got their backs up, and he was forced to amend his evidence in the first hearing from what he originally submitted in writing. His obstreperousness has set the tone for Blues in the years since – so just how did his bosses react?
They gave him a pay rise.
---
Although Ren was made a director of BCFC in June 2017, he wasn't employed as Chief Executive Officer at the club until August 15, nearly six weeks later.
Ren was given a salary of £131,800 per annum plus a £30,000 accommodation allowance and £3,600 for utilities. As salaries go, it's probably about right for a Championship level club CEO, and while Ren had little experience at that level, I remember thinking at the time his background with Winning League in China might be helpful.
Although his ability to deal with the EFL started to test what kind of CEO he was, during 2018 Ren led quite a normal life and there was no thought of him acting like one of his predecessors in his figurehead role, Peter Pannu.
That changed in 2019.
On February 1, 2019, Xuandong Ren was given a payrise to take his salary to £177,085 pa with £43,200 in allowances.
It's unclear who confirmed Ren's pay rise. Within the board rules was a clear one of directors not deciding each other's pay, so assuming Ren did not break that then the decision must have come from above.
However, that wasn't enough.
During the club's pre-season tour of Portugal under new interim head coach Pep Clotet, there were rumours of Ren (along with fellow director Edward Zheng Gannan) spending large amounts of money on things for their wives, funded by the club credit card.
Those rumours surfaced again in November and in January 2020 as part of the 1875 group I co-signed a letter to Birmingham Sports Holdings Chairman Zhao Wenqing alledging what I'd heard was some outrageous spending.
None of us at 1875 received any legal threats for the letter we wrote – for the simple reason we told the truth.
Documents obtained by this website outline the full horrific story. Despite his huge salary, company car, apartment and utilities being paid, Ren Xuandong was spending up to £15,000 per month on the club credit card.
In three days in November 2019 a total of £6,945.39 was spent at Dior, Prada and Gucci in Barcelona on the Blues credit card.
As a business owner myself I understand that expenses are a thing and that as a director, it would be normal for Ren to have a Blues credit card to pay for things he needed in the execution of his duties.
However, I cannot square how nearly £7,000 would need to be spent in three high end boutiques to help Ren do his job at Blues.
It's not even about the big money being spent – it is apparent having gone through the documents in my possession that Ren literally put everything through the credit card from Cineworld to online purchases at sites like Amazon, Farfetch and Taobao. Even his Netflix subscription was charged to the club.
After the 1875 letter we heard that directors lost the privileges of those credit cards – something I've not been able to verify independently.
However, even in his departure, Ren was of cost to the club.
---
As part of his salary, Ren was given an allowance to help him pay for somewhere to live. As a person moving from China to the UK, I think it's understandable that there was some kind of money for accommodation was paid out to Ren bearing in mind the position he held.
After living in the city centre of Birmingham for a while, Ren first moved to a house in Solihull before choosing to live with his partner Wendy Wang Xue in London.
I'm not sure what the reason for his move to London was about; whether it was to be closer to the elusive Mr King (Wang Yaohui)'s house in NW3 or just to live somewhere a bit more cosmopolitan than Birmingham.
His choice in London was at a newly built complex in Fulham, right on the River Thames. Having seen the rental figure, it's possible Ren had another pay bump as his £43,200 allowance would not have covered the rent for the flat he lived in.
Ren moved again while in London; this time literally around the corner to a riverside apartment with views looking over one of the swankier stretches of the Thames.
However, by now things were getting rocky for him back in Birmingham. The appointment of Aitor Karanka had started to go sour and fans had turned their venom not just on the Basque head coach but also to the man who appointed him.
Karanka was sacked by Zhao Wenqing on March 16, 2021 and Ren followed him out the door in May, resigning his position as CEO and Director.
Yet the final slap to the face of the club was to come; despite leaving the job Ren remained in the flat rented for him by the club until November 2021. The landlords weren't happy; the rent had not been paid for three months and legal action was being threatened.
I'm not sure what happened there; whether the club couldn't pay the outstanding balance; or wouldn't pay as Ren had left his employment but in either circumstance it was tough shit – BCFC were the name on the lease agreement and it was down to the club to cough up.
I've yet to see if that debt has been paid; however due to the lack of a new CCJ against the club I'm going to assume that some sort of agreement has been reached with the landlords.
---
On the one hand, this is all history. Ren has been gone from the club (and I think the UK too) for some time and this is now just looking back at what was.
Yet there are lessons here; particularly as Blues still have directors at the club who have similar wages and allowances. While a certain level of wage is to be expected with the roles these people hold, there is an absolute need to retain some level of control on spending – and not just for monetary reasons.
As we saw with Pannu, I think we saw with Ren what having access to money and prestige can do to a person. It's my opinion it can build up an inflated ego and sense of self-worth and push someone into taking themselves a little bit too seriously.
Furthermore, I'm of the opinion that it pushes people into making decisions that will prolong and extend the gravy train that they are riding.
It feels like Blues are making cuts everywhere to help improve the profitability and sustainability of the club. I hope those cuts are being considered at directorial level, and those that are left understand that for the club to be unified, everyone has to be in it together.