This article was inspired by a twitter follower who asked me if I'd compared Blues to other clubs in the Championship, to see if things really as bad as I feared.
I have to admit I hadn't, and so I've spent a little bit of time over the last couple of days pulling together figures to see if my hypothesis has any foundation in truth.
I will admit that my figures are a little bit raw and don't take various intangible things into account, but I think they're a fair reflection of where we are as a club and they show the extent of the problem that Blues faces.
All data on players was taken up to January 25, 2023. The raw data in my spreadsheet is at this link.
---
Loan Usage
The first thing I wanted to check was just how many other teams used the loan market as heavily as Blues does.
There are currently three clubs in the division who have six players on loan at this time, although Burnley will become the fourth should they complete a loan move for Djed Spence from Spurs. The other two teams are Huddersfield Town and Blackpool.
On the flip side, there are two teams in the Championship without a loan player on their books; West Bromwich Albion and Bristol City. In actual fact, the Robins have not loaned a player in since signing Steven Sessegnon on loan from Fulham on September 7, 2020.
The heaviest users in the loan market are Blackpool and Stoke City, who have loaned eight players in total this season.
Once I got those numbers, I thought it would be interesting to compare how many loan players start games for other clubs in the Championship in comparison to Blues.
My gut feeling was that Blues are using loan players this year not only as a stop-gap to add bodies to the squad, but to build a temporary core due to the quantity and quality of permanent players Blues have on their books.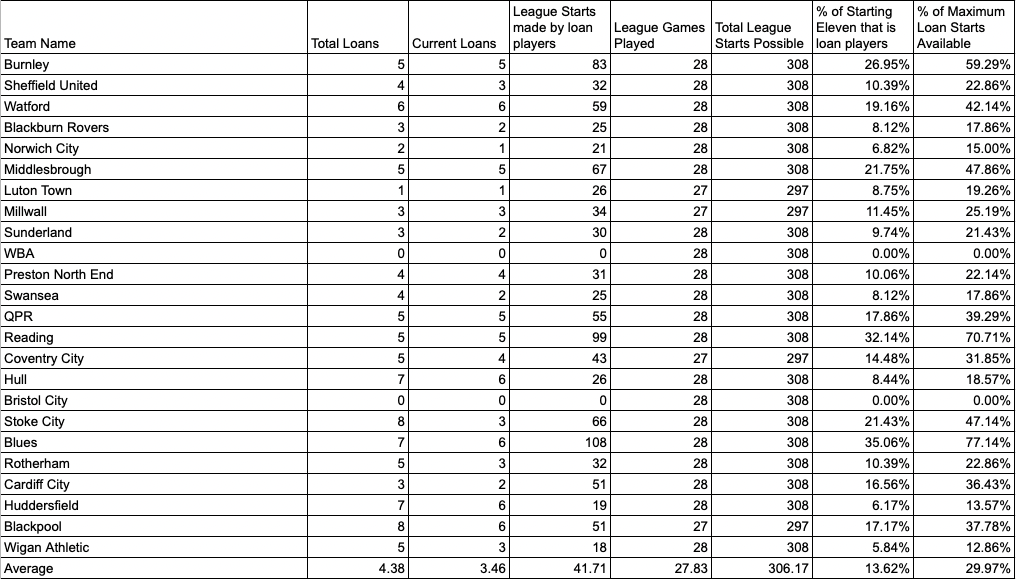 To do this, I checked every loan player to see how many games they started and totalled this in the third column of my spreadsheet.
As we know that only 11 players can start each game, we can know the total number of starts possible by a team by multiply games played by 11.
From this I can work out the percentage of league starts that have been given to loan players.
Also, as we know no more than five loan players can be in any matchday squad, we can work out how much of the total loan capacity has been used by each club.
It turns out that I was right that Blues are most reliant on loan players, giving out 108 league starts to all their loan players combined.
As Blues have played 28 games the absolute maximum they could have given out would have been 140, meaning that Blues ran at 77.14% of absolute loan capacity.
I wasn't too surprised to see Reading were heavily reliant on loan players either, bearing in mind their financial loans and they handed out 99 starts, running at 70.71% of absolute loan capacity.
However, seeing Burnley also up there (83 league starts, 59.29% absolute loan capacity) offers another insight into the loan market – that if the quality of loan player is good enough, then it is possible to succeed with lots of loan players.
This made me think more about the intangibles.
---
Unmeasurable details
The fact that Burnley are top of the table even though they have used several loan players frequently should demonstrate that having lots of loan players isn't an inherently bad thing.
Obviously, if a team has high quality players on loan then it doesn't really matter if the team relies upon them as those players will be good enough to push the team up the division.
However, measuring that quality is a difficult thing to do.
This is because in reality it's not just about how technically skilful or athletic a player is.
A player played out of position is not going to fare as well as one played in the right way, just as a player who is given the best tactical help is going to succeed more than one who is struggling to adapt to the way a team plays.
I've thought about how to measure this and I think it's something that is very difficult to do without access to the kinds of statistics that I just don't have.
I would be interested to see if someone could do a deep dive with something like Opta or Prozone statistics to see how loan players measure up across the division, to see if there is some correlation not only with the quantity of players used and league position, but also with benchmarkable statistics.
There are other intangible factors at play.
Managers can face financial pressures to play loan players. It's become a thing in recent years that big teams loaning out young players will financially penalise the loaning club if they do not play the player.
Although it was neither a big club nor a young player, the initial loan of Scott Hogan from the mob across the expressway is a good example of this concept.
As part of Hogan's loan deal, Blues agreed to pay a certain wage contribution per week of Hogan's wages. However, if Hogan started a fixture that week that wage contribution dropped by 25%.
I'm not sure how that worked during the time football was called off due to the initial lockdown, but when games were on Blues saved money by playing Scott Hogan.
This salary cut incentivised Blues to continue playing Hogan even if he wasn't on form (as he wasn't after the Covid break), as it would be cheaper than him not playing.
While I have no other firm examples to hand with regards to Blues, this Guardian article from 2018 outlines as an example how Liverpool were a team to use these demands.
Are Blues having to play players for the same reason? It's impossible to know – but it's something you might question if you see the same names being picked despite horrific form.
---
Conversions
One of the other arguments for loan players is the idea of "try before you buy"; ie signing a player on loan and then either converting it to a permanent transfer or offering the player a contract at the end of the loan period.
To find out if this was something that happened in the Championship, I went back to last season and looked through every loan player who played at a Championship club to see who then made the move permanent.
I was quite shocked by the results.
Of 109 players who played on loan in the Championship last year, just seven signed a permanent deal to stay.
Of those seven, two (Owen Dale to Blackpool and Ryan Longman to Hull City) were signed in the winter window during their season long loans.
The summer saw five players, namely Benik Afobe, Jayson Molumby, Allahyar Sayyadmanesh, Tom Ince and of course Tahith Chong signed for their loan clubs.
Only one player – Matt Smith – had their loan spell interrupted to be sold to another club while Riley McGree completed his loan at Blues and signed for Boro in the winter window.
Surprisingly, of the other 102 players who played on loan, 32 signed for a team other than they were loaned to.
In many cases players were out of contract at the end of their loan period but decided not to stay at the club they were loaned to and moved on elsewhere.
I think this proves the temporary nature of loan transfers; that they are in the main not used to bring in a player that a team wants to or can keep in the long term, but just to plug gaps in their squad.
It points to Premier League teams in particular having huge squads and hoovering up players, a complaint that has been made a lot in recent years.
---
While I'm aware that my methods aren't the most scientific, I think there has to be a conversation within the footballing department as to how dependent Blues are on loans.
I honestly think we have to get to a point where the only loans we take are for players we are intending to sign permanently; and that we make a conscious effort to develop our own youngsters to fill in gaps.
This might mean not only improving the Academy, but massively improving recruitment at u18 and u21 level to bring in players into that phase of development that may have been overlooked elsewhere. This is something Brentford have done in the past with some success.
Bringing through our own players also creates more saleable assets to help keep the club going; even if they're sold for only a six-figure sum, it's a six figure sum of cash into the club.
With all this news of possible new investment / takeover once again we have no idea who or what is going to be running the club in the medium-term future.
Whoever it is, if they are to attempt to run it in a sustainable fashion, these lessons need to be learned fast.