Having managed to get myself out of self-isolation thanks to a second negative lateral flow test just an hour beforehand, I arrived at the Bull Ring Tavern just before 1pm in more hope than expectation that something would happen. I'll freely admit my views to Adrian of Blues Collective and 1875 comrade Chris were pessimistic beforehand – it's hard to translate online frustration into something visible in real life.
As it turns out, I was wrong.
At 1:30 there were maybe a couple hundred of people outside the pub ready to march on St Andrew's and by the time we got to B9 it felt like there were a few hundred more. While there were some choice songs about Steven Gerrard that didn't fit the purpose of the march, there was also no racism being chanted by fans as we walked to the ground.
It might have got a bit rowdy at the front of the protest outside Kop Reception, but again it wasn't anything more than I think people should have expected from fans professing their frustration at the direction of the club.
I wasn't at the game due to a lack of a Covid pass, but from the bits I saw via Twitter and WhatsApp of the protests within the ground it looked like the vast majority of those protesting were obeying the rules.
Yes, there will have no doubt a couple of dickheads who didn't get the message about leaving nationality out of it, but the word is they were quickly put in their place. Likewise I think the people who spilled into the lower tier and onto the pitch will find themselves in bother that they need not have been.
That aside, for the first time in ages I personally felt that things could move forward.
The coverage of the protests on the news will mean that those in HK will more than likely have heard about it. I'd go as far as saying it's possible that even people like Vong Pech or the elusive Mr King, Wang Yaohui might have felt their ears burning.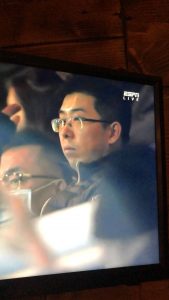 The last time I talked about the unhappiness of a Blues director in the ground I got a legal letter, so this time I'm going to share the above picture of Blues director Edward Zheng Gannan and leave it to the reader to decide what they think.
Where do things go from here?
As I said on Saturday evening, this cannot be the end. The momentum is very much with the fans now. The mere threat of a protest got the club to finally share what was going on with the stadium and to promise communication again. Now it's obvious the anger isn't merely a social media fad, it's possible that those in charge will understand that promises of jam tomorrow are not going to cut it any more.
I can't speak for anyone else but myself here, but it's going to be a long way back before I trust the board in what they are saying.
I can accept they're in a shitty situation re the stadium, made worse by an incompetent CEO who seemingly cared more about having to pay his own Netflix bill than actually doing his job properly – but a lot of this could have been avoided if they had told us that there was something majorly wrong sooner.
It's my understanding that they've had some form of statement ready to go for a couple of months, but it's been sat on by board member(s) frightened to say something negative out loud.
Likewise, I think fans could accept that the team needs completely rebuilding which is going to take multiple seasons … if we hadn't already been told that before last year. I'll readily accept a few wins will placate people somewhat, but no one wants to be told that it's going to be at least a year if not two before we can hope to be excited again.
Supporting a football club is about hope – the hope that the team will win and can be successful. How that success is defined depends on the club, but the one thing that should unite us all is the aspiration to be successful.
Another win on Tuesday against Peterborough should give us a bit more hope that this season won't be another relegation nail-biter on the pitch.
Zheng, Zhao and chums need to find a way to offer more hope off the pitch – because without it, I think the frustration will only return.