The confirmation of the deal with Graticity Real Estate Development also meant by extension Vong became the second largest shareholder in Birmingham City Football Club – and as his shareholding in the company was above the 10% threshold meant he had to take the Owners and Directors Test (OADT).
I don't think I'm making a bold assumption when I say that very little is known about Vong Pech, and with this in mind I set out trying to find out more about him.
Initially, the idea of reversing another project into BSH seems a good one.
Problems have been caused before due to the fact that the only revenue stream for BSH has been the club, and the lack of other companies owned by BSH ensured in the past that it was impossible for the club to be sold separately from the holding company.
The Cambodia project is in two parts.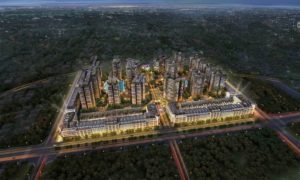 The first part is investment in a mixed-use development in Phnom Penh called "One Park". This has already been under construction and despite issues with local contractors has been advertised for completion this year.
The second part is investment in a commercial and educational building within the same area.
While my knowledge of Phnom Penh and Cambodia is pretty minimal, the idea of diversifying the portfolio of the company and bringing in an outside investor makes sense as it of course gives hope that come October 2018 the club will be spun off outside of the HKSE listing.
However, as with anything else related to Blues nothing is ever that easy.
There is a paragraph on page 14 of the original announcement of this deal which reads
"To the best of the knowledge, information and belief of the Directors having made all reasonable enquiries, each of Ever Depot, GRED and their ultimate beneficial owners are Independent Third Parties."
Unfortunately, it appears that this is not true.
While looking for more details on Vong Pech, I discovered a company registered in Cambodia called Asia-Pacific Development Specialised Bank PLC (ធនាគារឯកទេស អេស៊ា-ប៉ាសីុហ្វិក ឌីវេឡុបមេន ភីអិលសីុ).
This company was founded on April 5, 2016 and currently lists three directors according to a search of the Cambodian Company Registry – Vong Pech, Lau Yao Zhong, and Zhao Wenqing.
The name Zhao Wenqing may appear familiar to Blues fans as it is the same name as the man who is also Chairman of the board of directors of BSH and a director of Birmingham City FC.
Furthermore, the 2016 Annual Report for the company (which can be found in Khmer and English here) shows that not only are these two people are involved, but the CEO of the company is a gentleman by the name of Hsiao Charng Geng – another Executive Director of BSH.
According to his LinkedIn profile Hsiao still holds the role of CEO of that company.
In my eyes questions have to be asked by the relevant authorities of how independent a third party Vong Pech is due to his obvious and current business dealings with two executive directors of BSH.
Personally, I'd also be curious to know if Vong has any business connections with Wang Yaohui ("Mr King") due to Vong obviously being connected to someone in Zhao Wenqing who has done a lot of business with Wang.
As with most other things about BSH, trying to find answers has only opened up a ton of new and uncomfortable questions.