As with many rumours, it started with a tweet. This rumour came from a tweet (since deleted) posted by Blues Collective on Friday evening.
I tweeted on Friday that I didn't believe the rumour myself, and my continued stance that until something is announced to the Hong Kong Stock Exchange by Birmingham Sports Holdings, there really isn't much to discuss.
While I don't think people are intentionally sharing incorrect information, I do think there is a need to clarify things properly so people can understand better why I hold the opinions I do, and what facts I am basing them on.
---
The Rumour
As I have said before, there are always rumours that the club is going to be sold; whether it being posted by "ITK" people on message boards or direct messages spreading through social media like wildfire.
There's been a few I've seen recently. For example, the unnamed businessmen who were behind the story I published about Sammy Yu and Matt Southall resurfaced in my DMs on Twitter recently, along with someone messaging me about Laurence "Bankrupt Baz" Bassini.
Those kinds of rumours are pretty easy to quash, because the people involved are chancers and tend to make wild claims which are easy to disprove.
The rumour tweeted by Blues Collective wasn't like that however. There was no real detail; no real information bar that Craig Gardner was working his socks off to fix the ownership situation.
Unfortunately, the tweet wasn't the first time I heard that particular story.
I was contacted by Craig Gardner by phone multiple times last week, with the same narrative every time.
Gardner told me that he was doing everything he could to improve the situation at the club and that he had convinced "the owners" to sell the club, and that good news was coming soon.
I told him then what I'm going to say here and now – that I didn't believe him.
It's not that I think Gardner is a liar, or even that I don't think he's trying hard to do right by the club; it's more that I think it would be very difficult for Gardner to get an argument across to the owners of the club (rather than the board), let alone convince them.
I'm always cautious about information I share, and there was no way I was going to share what he told me on this website without anything to back it up.
I know I'm not alone in making this kind of decision either; there have been other people who were told similar by Gardner who refused to then make it public.
I didn't make that decision because I want to keep secrets to myself. I made it because I want to ensure that I maintain a reputation for being objective in what I say about the ownership situation at Birmingham City.
---
Do the owners want to sell the club?
This for me is the big question – and one I don't think anyone (including me) knows the answer to.
It's hard to know what the intentions of the owners are at the best of times without claiming to understand if they've decided now is the time to get out.
All we can do is examine the evidence in front of us and come to our own conclusions.
Take Paul Suen Cho Hung for example.
He owns 28.12% of BSH, and a tiny direct stake in Birmingham City plc too, both of which are held via his British Virgin Islands investment holding company Trillion Trophy Asia.
Suen has been fairly quiet in recent months, and it's harder to understand what his current financial situation is like.
However, there are some dealings which might help us to understand.
For example, at the end of last year Suen invested in a London Stock Exchange listed company called Playtech PLC, buying over 14 million shares in the company building up a 4.61% stake.
This was apparently in advance of a takeover bid being made by Hong Kong businesswoman Karen Lo, which has yet to materialise. However, Playtech turned down another bid from a company called Aristocrat worth 680p a share, and since then the shares have dropped around 15% in price.
This has had a massive effect on Suen, who has lost maybe £21m in the last few months, with shares trading at 550.69p per share at close on Friday.
This means Suen has the choice of either cashing out now and taking a huge loss or holding onto his stake in the faint hope that it will climb again, tying up £70m+ of his cash.
Now it could be that Suen has a rakeload of cash elsewhere and he can sit it out; but it's also possible this is hurting him and he wants out.  Without knowing his full situation, it's impossible to know.
Likewise, the elusive Mr King aka Wang Yaohui has had some tough times of late.
Take the mobile phone business in Cambodia, South East Asia Telecom Group (SEATEL). I've mentioned before that their accounts were horrific, but it appears that things are even worse than duff accounts.
I've seen details of a lawsuit against that company for US$100M+, which I think will be very difficult to defend. The word in Cambodia is that the cell towers built by SEATEL are being forcibly taken down due to interference issues, which has caused further financial problems.
The problem with Wang though is that it's fairly apparent none of his businesses ever make any money – and yet he spends cash like it's water.
In the last month his partner Tang Yuhong took a private jet to the Med to go on holiday; if money was tight then surely he'd have told her to go Ryanair like everyone else?
I guess what anyone convincing the owners to sell has to do is to make them think the club is not worth the hassle, and the money lost by selling now is more than could be possibly gained in the future.
---
How would a takeover work?
Officially, nothing is happening until the Hong Kong Stock Exchange is notified. This is because shareholders have to be notified of anything the company is actively doing that could affect the share price.
However, unofficially, things can and are likely to be very different.
BSH won't want to make any announcement to the HKSE until they've got a deal agreed in principle, so if there is will to sell it's absolutely feasible that discussions are being had.
I'm just a simple boy from the council estates of Chelmsley Wood and I can't say I've been involved in any high-power business dealings, but from the little bits I've seen if people are willing to do a deal it can be done very, very quickly; like literally over a lunch.
However, this isn't a simple purchase.
Any sale of the club has to have approval not only from BSH shareholders, but also from the HKSE and from the EFL.
In the hypothetical situation where a deal is being thrashed out for the club with prospective bidders, I'd expect BSH's company secretary Robert Yam Pui Hang to be speaking to the HKSE at the same time to find out what BSH would need to do so the deal could go through.
The chief issue BSH have is that the HKSE want companies to be actively trading as companies, rather than be cash-rich shells.
The sale of BCFC by BSH would take 90%+ of the revenue away from the company, which means that the HKSE would want to be satisfied that there would be a company of significant value trading after the sale.
To understand the mechanics of how it would work, we need to refer to Chapter 14 of the rules of the HKSE.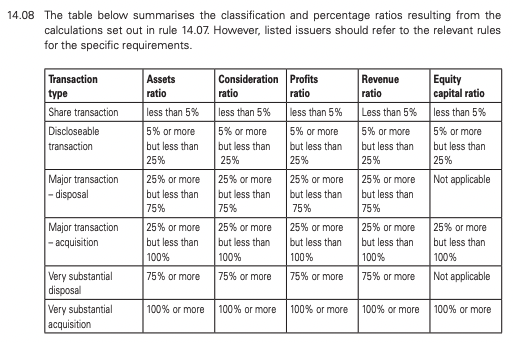 Because of the size of the transaction in relation to the revenues / assets / profits made by the company, this would be a "Very substantial disposal" made by BSH, as per Rule 14.08. I've included the table above to show how this is calculated.
As per rule 14.33, a very substantial disposal requires notification to the HKSE, publication of an announcement as per rule 2.07C (which stipulates how and when a notification can be made), a circular to shareholders along with shareholder approval.
No shareholder nor his close associates are allowed to vote if they have a material interest in the transaction.
The announcement would confirm the details of the deal; who it is with, for how much and how it would work. It would also confirm deposits paid and a "long stop date" when the transaction has to be completed by.
The circular to shareholders is a group of documents which would include letters from the board and an independent financial advisor along with the details of the deal. It normally takes a month for a company to get a circular out, but this can be extended if the company feels that they need more time to put the details together. Any extension of the circular dispatch date has to be disclosed by an announcement to the stock exchange as per rule 14.36A.
I'd expect while that was all going on the bidder would be in contact with the EFL to go through the "owner and director test" process. This has been beefed up a bit in recent years and any bidder has to provide proof of funds for a period of time on top of the purchase price.
Once the circular has been finalised, this would be sent out along with a date for an Extraordinary General Meeting for shareholders to vote on the transaction. The minimum notice for this is three weeks.
Even the EGM is a little bit tricky. Shareholders with a direct financial interest in the transaction (such as Suen or Vong Pech) would not be able to vote. There would also be an obligatory ten business day adjournment to consider the resolution as per Rule 14.53.
Taking all that into consideration, that means providing there are no technical hitches whatsoever and that everything went well, there would be a minimum two to three months from the initial announcement for the deal to be completed.
In reality, the complexity of this deal could easily make that longer – which makes any idea of an "imminent sale" absolutely unworkable.
---
Conclusion
As much as I understand that people are desperate for a takeover to happen, I really feel it's important that we as fans understand what is required for it to work.
There's lots of misinformation out there and while I'm not convinced people are trying to deliberately mislead fans, I think misinformation is only going to cause misery when things don't happen the way that some people following this misinformation expect it to.
For me, it's also important that the next set of owners aren't just another bunch of tyre kickers causing Blues to jump from the frying pan into the fire. I freely accept my desires for an owner might not align with other people's in that I don't want a mega-rich sugar daddy owner to come in and splash another ton of cash; it's important to me that the club is put back into a situation where it can run properly and without worry as we have seen in the last decade.