You can read Part II at this link, Part III at this link, and Part IV at this link.
Before anyone has a go, I freely accept that these thoughts on players are mine alone and that I haven't seen as much football as many Blues fans have.
However, I've tried to be objective in my thoughts. I've used two statistical sources to help write these articles, namely whoscored.com and fbref.
All player ratings have been taken from whoscored while stats based on league games played etc have been taken from fbref.
I've also utilised my own squad spreadsheet and injury tracker for other data.
#1 Neil Etheridge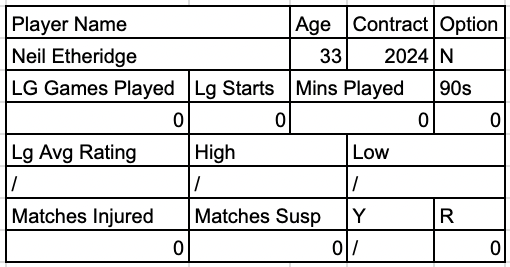 Neil Etheridge has been limited to just four cup games thanks to the form of John Ruddy, and while he's a more than able deputy, the wages Etheridge is reputed to be on means that this summer Blues need to do what they can to move the Philippine keeper on.
The problem of course is that because Etheridge is on a high wage, it could be difficult to find a team willing to match the wage. This means either subsidising his wage for a year while he plays for someone else, or trying to come to some sort of mutually agreeable figure to terminate his contract. Either way, it's almost certainly going to cost Blues money.
#2 Maxime Colin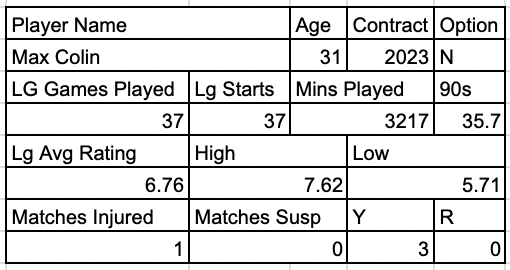 Colin has been one of the steadier players in the team, getting fairly consistent ratings from whoscored.com and only missing one match thanks to injury all season. However, he has played with a knock and I think that it has started to affect his game a little bit.
The French man is out of contract at the end of the season and I think the time has come for him to depart St Andrew's. I know from information I have from the infamous Dong box that Colin is on an insanely high weekly wage, and I have reason to believe it's potentially the highest at the club. Regardless of whether it is or not, there is no way Blues can continue to fund that and I think unless Colin is willing to take the most drastic of pay cuts, it's au revoir and bonne chance.
#3 George Friend
While I'm sure George Friend is a really nice person and is a senior figure around the training ground, I think that there should be no doubt that his time is up at Blues.
His age precludes him from playing more than one game a week; he has spent a large portion of the season injured and when he has played, has looked good only in flashes. Definitely one to release.
#4 Marc Roberts
It's been a tough year for Marc Roberts. He's had a couple of bad injuries to contend with and then found it difficult to get back into the starting lineup due to the form of other players.
However, unlike many of our other centre back options we do have Roberts for another year. That extra year was thanks to Roberts signing a new deal with a hefty pay cut, which brings him into line with what Blues really should be paying players. I know he's not everyone's cup of tea but he'll do for another season.
#5 Auston Trusty
It's been a very good first season in Europe for Auston Trusty, which has culminated in him getting his first call up for the US National Team. It's no more than he has deserved, having been one of the more consistent defenders at the club despite playing at both centre-back and a more unfamiliar left-back role.
While Trusty is only on loan from Arsenal, it's my understanding that there could be a deal to be done in the summer to bring Trusty back to St Andrew's on a permanent basis – and for much less than people might think. I sincerely hope Blues can pull it off because I'd definitely welcome him back to the club personally.
#6 Hannibal Mejbri
It's been an interesting loan for Hannibal. There have been times when he's been great but there are also times when he has been really poor – as evidence by the high and low whoscored.com ratings. It was always going to be this way though, with this season being his first true season of first team football.
I think it may be difficult for Hannibal to break through at Manchester United but I can't see him being sold to us either; that being said I didn't think Blues would be able to sign Tahith Chong permanently. If there is a chance to sign Hannibal on loan next year I'd take it myself.
#7 Juninho Bacuna
Juninho Bacuna is probably the most technically gifted player that is permanently contracted to the club. Although at 25 he's not really a young player, his form does go up and down a bit but when he's on form he's as good as any midfielder in the division.
I think Bacuna has to be one of the players the team is built around next season; if only for the fact he's our player until 2025. If we can get a midfield together that is combative enough to win the ball and skilled enough to use it, then surely we'll be in a better place?
#8 Troy Deeney
This is where I think I start to upset people, because I'm of the opinion that Deeney is one of the players we have to wave goodbye to if Blues are to move forwards.
Don't get me wrong; there are times when he's been great and he's meant to be a proper leader. He's not on a huge salary at all either, unlike some of the players I could mention. That being said, I don't feel he contributes enough and I think some of the circus around him is not good for the club. Sorry Troy, I really wanted it to be a fairytale comeback but it was not to be.
#9 Scott Hogan
I think we all have come to realise that Scott Hogan as a player is streakier than a pack of bacon. When he's on form, he's a great finisher – for example, the WBA game at the Hawthorns. When he's not, he's absolutely dreadful.
As Hogan has one more season with Blues I don't think there is much that can be done. He's on a decent contract that I can't see other clubs replicating and his age will probably mean that there is less interest in him now. My only hope is that next season he's much less relied upon so we're not exposed to his drops in confidence.
#10 Lukas Jutkiewicz
It's hard for me to find fault with Lukas Jutkiewicz, because of my perception of him as a player and as a person. While I can agree he probably hasn't scored enough, Jutkiewicz has only started ten league games for Blues and that has mainly been down to injuries suffered by Deeney and Hogan.
Like Hogan, I don't think we can go into next season with Jutkiewicz leading the line week in, week out but I do hope that he can bring some leadership to the dressing room. I think next season is almost certainly his last with Blues and I hope he gets to go out in style rather than with a whimper.
---
I intend to go through the rest of the squad through the international window, with the next piece looking at squad numbers 11 to 25.