You can read Part I by tapping this link, Part III by tapping this link and Part IV by tapping this link.
Once again, I need to make it clear that these are my individual thoughts on players and while I've not been to as many games as some, I've tried to be objective in my thoughts.
I've used two statistical sources to help write these articles, namely whoscored.com and fbref. All player ratings have been taken from whoscored while stats based on league games played etc have been taken from fbref.
#11 Jordan Graham
I feel a bit sorry for Jordan Graham. A winger by trade, he's barely played in his correct position while he's been at the club and has found himself shunted into a wing-back slot I'm not all too sure he's happy with.
While he's rarely set the world alight, I don't think he's actually been that terrible either. I'm fairly confident he's not on the highest of wages and with this in mind I'd probably activate his option for next season at least. That being said, I'd hope if we did that we tried to use him for his attacking skills more than just to fill a gap in the team.
#12 Harlee Dean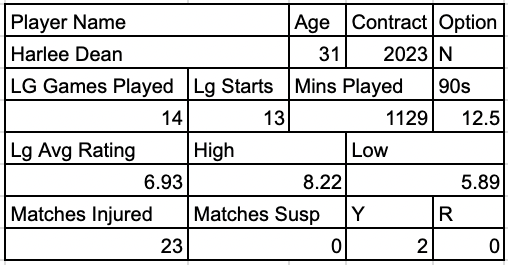 If ever there was a player that has divided fans, it's been Harlee Dean. Yet when he has been fit he's probably been one of our most consistent players, which shows in his high average league rating. The problem realistically has been his fitness, with calf injuries keeping him out of the team for more than half the season so far.
Like Maxime Colin, I've got details of Harlee Dean's contract from the notorious box of paperwork former CEO Ren Xuandong left behind in a storage unit… and like Max Colin, Harlee Dean was a recipient of Ren's ineptitude when it came to negotiation. Unlike Max, I think the flood of injuries mean Blues have to move on from Harlee Dean regardless of him taking a pay cut or not.
#16 Sam Cosgrove
Sam Cosgrove is a harder one to judge than most as he has spent pretty much all of this season on loan to Plymouth Argyle in League One. While 12 goals in 36 appearances looks decent, four of those came in the Papa John's Trophy and the number of starts Cosgrove has made points to a player who maybe isn't first choice at Home Park.
Cosgrove has got another year left on his Blues deal and it might be that we need to give him a chance in Royal Blue again; particularly bearing in mind regardless of a takeover this summer it's going to be a tight one thanks to P&S. That being said, if we get a decent offer – £500k or so – I'd be willing to cash in personally.
#17 Reda Khadra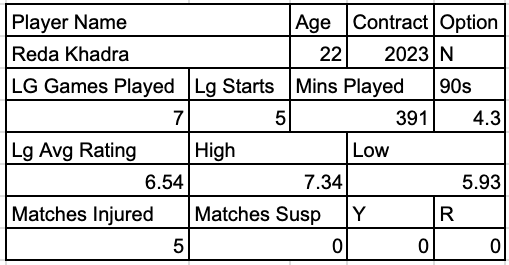 I've liked what I've seen of Khadra since he's come to the club. His three goals point to a player who can find the target frequently and he looks a threat down the left hand side. When he went to Sheffield United the Blades had an obligation to buy the German if certain criteria were met.
I'm fairly certain that obligation was not put in place when Blues signed Khadra on loan; Brighton also extended Khadra's deal until 2024 to ensure they retained value in the player. However, with Khadra turning 23 in July I think the Seagulls may have to make a decision whether he makes their Premier League 25-man squad or not. If he doesn't, then I'd like to see us go back in for another loan; a permanent deal might be beyond us though.
#18 Tahith Chong
I've been impressed with Tahith Chong's first season as a permanent Birmingham City player. I thought his end product was a bit lacking last year but four goals and four assists show that he is improving on that front and I think he will benefit from being played on the right side of an attacking midfield trio.
There's no doubt whether Chong should be kept on, especially as he has a contract until 2026. I think the only question would be if Blues would cash in on Chong in an attempt to raise money but I can't see a bid coming in big enough to tempt Blues to sell. What I'm most interested in of all is where Chong's international aspirations lie. I don't think Chong will get into the Dutch side and as he was born in Curacao, I wonder if Juninho Bacuna will have a word to get him into the La Pantera Azul squad again.
#19 Jordan James
It's been a weird season for Jordan James. On the one hand, he's made 27 league appearances for Blues while sitll only 18 and is now in the Welsh international squad on the verge of a first cap. On the other hand, most of his appearances have been very short substitutions, made when time is almost up in a game.
James is still young and I think it's vital the club perservere with him next season. I'd like to see him given a bit more time in the middle to stake his place in the team, if only to ensure we have a homegrown asset that can be sold should we need the cash. It would be up to James to kick on as a player to prove he should be hung on to.
#20 Gary Gardner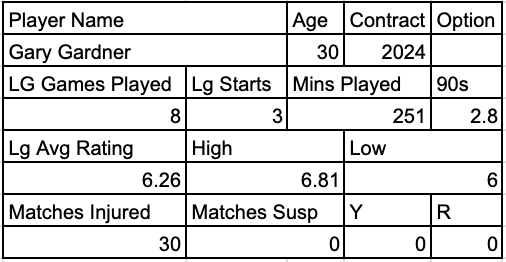 Gary Gardner is another contentious one that I'm sure I'm going to upset people with, but I'm fairly certain with my opinion. His injury record has been dreadful this year and when he has started, he's not been very good.
The issue with Gardner is he has another year on his deal, which means it's not as simple as just letting him go. However, I honestly think we need to move on from Gardner to play some of the younger talents we have. It's going to be a tough one for Craig Gardner as Technical Director to deal with, but I hope he's got the bollocks to sort out a way to wave his younger brother goodbye.
#21 John Ruddy
John Ruddy has been one of the signings of the season for me. He's been a steady pair of hands in goal and I was very happy that Blues managed to tie him down for another year earlier this season.
My hope is that with Ruddy in place as #1 next season, Blues can bring through a younger player as his understudy to get into place for when Ruddy hangs up his boots. Who that younger keeper is remains to be seen.
#23 Manny Longelo
It's been a coming of age season for Manny Longelo. He started it trialling for clubs having only ever made one senior appearance at West Ham, and he's going to finish it a permanent Birmingham City player with over 1500 league minutes under his belt.
I think there's been some criticism because Longelo has been left out of the first XI for a few games but it's clear that he's still learning on the job and I think maybe Eustace wanted to take him out of the firing line after a couple of iffy performances. With Longelo definitely better as a LWB than a LB I wonder if his future will see him play a bit more of an attacking role; regardless I'm hopeful for him to have a good career with us.
#25 Nico Gordon
It's been a rough season for Nico Gordon. Out of the team for a long period through the summer and autumn, there's been a few conspiracy theories around as to why Gordon has not been available for selection. I'm aware that he had a medical issue that he asked the club to keep private and as such I'm not counting the number of matches he has been injured for.
Gordon has made ten appearances for the u21 side but I think even with an option his time at Blues is coming to an end. I think there are some complex reasons behind why he's not getting picked even when we were short at centre back and I think we'll be waving goodbye to him come May. If that happens, I only want to wish Gordon the best for his career.
---
The third part of this series will cover squad numbers 26 to 38.