You can read the previous parts of this look at the squad at the following links: Part I, Part II and Part III.
I should once again make it clear that these are my individual thoughts on players and while I've not been to as many games as some, I've tried to be objective in my thoughts.
I've used two statistical sources to help write these articles, namely whoscored.com and fbref. All player ratings have been taken from whoscored while stats based on league games played etc have been taken from fbref.
Please also note, that I have not included Romelle Donovan (squad number 49) nor Trevan Sanusi (squad number 50) in this round up as neither have made their debut nor signed a pro deal.
#40 Adan George
It is very, very difficult not to feel sorry for Adan George. Blues are desperately lacking a young striker to break through but George has seen his career hampered by injury after injury which has restricted him to just four u21 appearances. The sentimentalist in me says to take up his option, especially as George won't take up a 25 man squad place next year. The ruthless streak in me says it's time to let go and move on.
#41 Remi Walker
Walker is another player who has yet to make his first team bow for Blues. A midfielder who has filled in defence, Walker had a productive loan spell with Alvechurch which will have given him a taste of first team football. He's been a mainstay of the u21s, making 20 appearances; the question is if that will be enough for him to get a new deal. My gut instinct is that it won't.
#42 Alfie Chang
In my opinion Alfie has been one of the successes of the year from the Academy, and has done more than enough to be considered in the first team squad next. year. My hope would be that Chang's rise will reduce the need for Blues to look for replacements in midfield next year and that he can be part of a midfield that are permanently contracted to the club.
#43 Mitch Roberts
The younger Roberts of the Blues squad has spent this season out on loan in the National League; first with Oldham Athletic and then with Solihull Moors. I've not seen or heard anything that makes me convinced he's a late bloomer and while he has an option, as Roberts is 23 in September I think it's time to let him go.
#45 Keyendrah Simmonds
Kiki Simmonds had a loan spell with Grimsby in October, where he made one League Two start in 13 total appearances for the club. His solo goal for the Mariners came in a Papa Johns Trophy 1-1 draw against Man City u21. I think Simmonds came with much hype but has ultimately failed to deliver and thus it's a cheerio for him this summer I think.
#46 Brandon Khela
I'd like to have seen Brandon Khela in and about the squad for the remaining dead rubbers this season but I think injury is going to prevent it. It's a shame really; he's a stalwart in the u21s team and at 18 still has plenty of time to grow as a player. I suspect Blues will take up his option rather than give him a new deal, with a push to earn another deal next year.
#47 Ryan Stirk
A pair of sub appearances in the league and the League Cup at the start of the season suggested it might be a breakthrough for Ryan Stirk, but the arrival of various loanees put paid to that. Stirk has been doing well out on loan for Bromley in the National League which doesn't surprise me as I think he's better than that, but at 22 I'm fairly sure he's offski this summer. I think he'll have a decent lower league career though.
#48 Josh Williams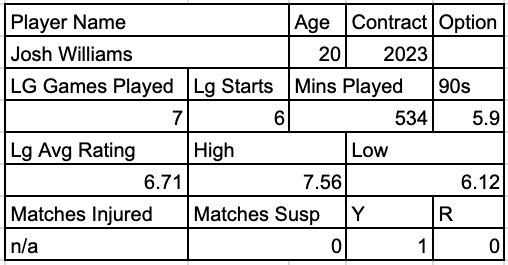 When I've seen Josh Williams play I've been impressed; I don't think he let anyone down when he came into the first team squad and with Max Colin probably off this summer I'm hoping Williams can step up to fill in that space. Williams is still too young to need to be in the 25-man squad next season, which should make offering him a new deal a no-brainer.
Other Professionals without a squad number:
Blues have a further nine young professionals without a squad number, as well as one third-year scholar.
Of those, I believe only Rico Browne is contracted past this summer although Alfie Brooks, Lewis Cunningham, Tommy Fogarty, Rico Patterson and Kieran Wakefield all have options and I wouldn't be surprised to see them all taken up..
Of the three players who don't have options, the best known is Josh Andrews.
The 21 year old striker has continued to suffer injuries this year and I think it's a tossup if he gets a new deal, particularly as he has to be in the 25-man squad next year.
I think it's unlikely that Oliver Basey or Callum Sullivan will get offered new deals either in honesty.
That leaves Harley Hamilton who is a third year scholar. He was offered this rather than a pro deal due to the number of injuries he had during his scholarship as a chance to prove himself. Sadly, those injuries have continued and I think he'll be on his way.