Since I published the article on Friday, it's become obvious in the reactions online and from other articles that the convoluted nature of the ownership wasn't really understood.
One of the chief indicators of this is the number of people saying that wanted Trillion Trophy Asia out – despite Paul Suen Cho Hung's company no longer being the largest shareholders in the club.
While it is true that both the training ground at Wast Hills and St Andrew's bear "Trillion Trophy" in their official names, the deal to sell a stake to ORI at the end of last year has pushed TTA to the side. TTA have not put any money into the club for some time, and as such this sale is another step in the conclusion of their ownership of the club.
With this in mind, attention surrounding the club's ownership needs to switch focus away from TTA.
---
Remind me who Oriental Rainbow Investments are and what they bought
First off, let's recap with who ORI are and how they got involved.
Back in October 2020, Birmingham Sports Holdings announced a deal which would see ORI buy 21.64% of the club and 25% of the company that owns St Andrew's. As deals go it was relatively simple, although there were a couple of complications.
The first complication was that ORI weren't just buying 21.64% of the club. As part of the deal, 21.64% of the debt BCFC owed to BSH (which at the time of the announcement was around £110M) would now be owed to ORI. Of course, ORI made promises that there weren't going to call it in any time soon – which makes logical sense – but the fact remains it hived off some of the debt to another party.
The second complication was a profit / loss sharing arrangement. If BCFC make a loss in the next three years, then ORI would absorb that in full by refunding the lost money to BSH. However, if the team get promoted in the next three seasons then ORI would get an annual bonus out of the profits generated up to £30mil per year.
The upshot would be that BSH retains overall control of the club without worrying about funding it, while it's in the interests of ORI to fund the team to promotion because they will financially benefit from it.
There's also a variation in the length of the lease on St Andrew's because of the changed ownership agreements, but so far, so groovy, right?
---
So where's the problem?
Taken in isolation, it doesn't seem that weird a transaction. The profit / loss sharing agreement seems a bit strange, but it could easily be shown to be an incentive for ORI to put money into to get the team promoted. Likewise, if they're taking on a stake in the club, isn't it only right that ORI are entitled to take a stake of what the club owes?
However, in what some would call "typical Blues" fashion, there are other issues lurking just beneath the surface.
The chief issue is a man I've frequently referred to as the elusive Mr King, Wang Yaohui.
I've talked before about how Wang is the man putting money into the club, and how it is really he and not Suen is pulling the strings. Wang is the problem with this transaction.
To understand this, we have to accept two assumptions as true.
The first assumption that I am asking people to accept is that the titular owner of ORI, Vong Pech, is a front man for Wang Yaohui; ie a patsy for the elusive Mr King.
This is based on a number of reasons.
Firstly, when this transaction came about I pulled details of a company with the same name, also based in the British Virgin Islands which was registered as a foreign company in Hong Kong. That company had direct connections to Wang's offices in the former British colony.
Secondly, there are a number of companies that link Vong Pech to Wang. A good example of this is Cambodian Natural Gas Corp, which according to OpenCorporates lists Vong Pech as a director. Last October I published the picture above which was taken in Beijing and shows Wang Yaohui in a meeting as a "senior executive" of CNGC. Furthermore, CNGC is part owned by Asia Pacific Energy Holding (Singapore) pte – and in this article I show the below picture with Wang Yaohui in it, where he's given the title of Chairman of that company.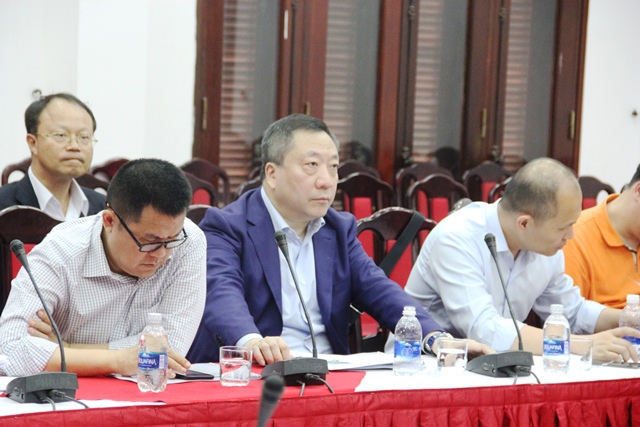 Thirdly, data from the OpenCorporates website shows that Graticity Real Estate Development Ltd (GRED – the Cambodian Project guys) shows a gentleman named as Wan Sokha as a former director. It's long been my understanding that Wan Sokha is the name on Wang Yaohui's Cambodian diplomatic passport, and that it is indeed Wang Yaohui who was formerly director of the company.
The second assumption I want you to make is that the third party companies who BSH owe money to are connected to Wang Yaohui.
My reasoning for this is quite simple: We know that BCFC owe BSH £110M which the Hong Kong parent company have put in to keep the business running. We also know that BSH don't generate anything like that money for themselves, so the logic would be that BSH has borrowed that money to fund the club.
I've shown in the past the connections between Wang Yaohui and various BSH directors, and I've long posited that it's been Wang who has put the money into the club to pay for players. We know for a fact that it has not been Paul Suen, as the loan facility BSH has had with him has remained at the same level of use for a long period of time, and any other company owned by Paul Suen putting money into BSH would have to declare that as it's a connected transaction.
Taking those assumptions as read, I asked Chris from WAB to put the ORI transaction into graphical form, which he has kindly done.
As you can see, the transaction becomes circular. The money used by Vong Pech (on behalf of Wang Yaohui) to pay BSH for the stake in Birmingham City plc, is used to pay off loans to… Wang Yaohui.
Not only that but remembering that ORI gets a proportion of the debt owed by BCFC to BSH, then it looks even murkier. As a result of the transaction, some of his debt (£5M ish) from BSH is paid off… but now BCFC owe ORI £25M or so directly. In essence, he gets just over a fifth of the football club and a £25M debt for – well, nothing.
Conclusions
This deal was a great deal for BSH – they pay off a bit of debt, they free themselves of the encumbrance of losses from BCFC plc and they're protected if the club doesn't go anywhere. It makes the listing stronger, which is important as it'll ease the pressure from the HKSE too.
However, BCFC get no direct additional investment from the partial sale, and now find themselves owing money to a shell BVI company. Not only that, but it's now very difficult for us to understand how and when money will come into the club. This might not sound important, but you only have to look at what happened when Wigan Athletic were sold (including a loan) to an offshore shell company – things went sideways very quickly.
Now, obviously it is in the interests of ORI to make a success of things because of the profit- sharing agreement. However, that agreement only lasts three years which maybe coincidentally fits in with this idea of a Three Year Plan™. Based on the last six months of football, it's not hard to think that promotion might not happen in time for ORI.